Иногда очень сложно открыто говорить о проблемах ментального характера. Из-за недостаточной информированности люди опасаются делится переживаниями, ходить к психологам. Очень часто во время депрессивного эпизода люди сталкивается с тем, что окружение не готово оказать необходимую поддержку.

Целью коллекции является иллюстрирование разных состояний, цикличности и создание безопасного пространства вокруг тела. Объемные пуховики как желание изолироваться и прозрачный низ как ощущение отсутствия опоры под ногами. Запутанность мыслей иллюстрируют переплетения и текстуры платьев.

—

Sometimes it is very difficult to talk about mental health issues. Bue to the lack of information, people are afraid to discuss their problems, reach out to professionals. Often, during a depressive episode, people don't get enough support from those around them.

The purpose of this collection is to illustrate different mental states, create a safe space around the body. Voluminous down jackets represent the desire to isolate and transparent bottom — lack of support. The confusion of thoughts is illustrated by the weaves and textures of the dresses.

Photography:
Alexandra Emelyanova
Ekaterina Ponedelkova
Video:
Emil Mukhamedakhimov
Stylist: Bela Kova
Make Up/Hair:
Maison Des Artistes
Photography/Video backstage:
David Dave.grits
Torgashin Daniel
Jewellery: Black Form

Models :
Maria agency Thrillermgmt
Lada Afanasieva
Lera agency Lilasmodel
Anastasiia Moo
Julia agency Vprojectmodels
Tania Dittmann Modus Vivendis
Julia agency Modus Vivendis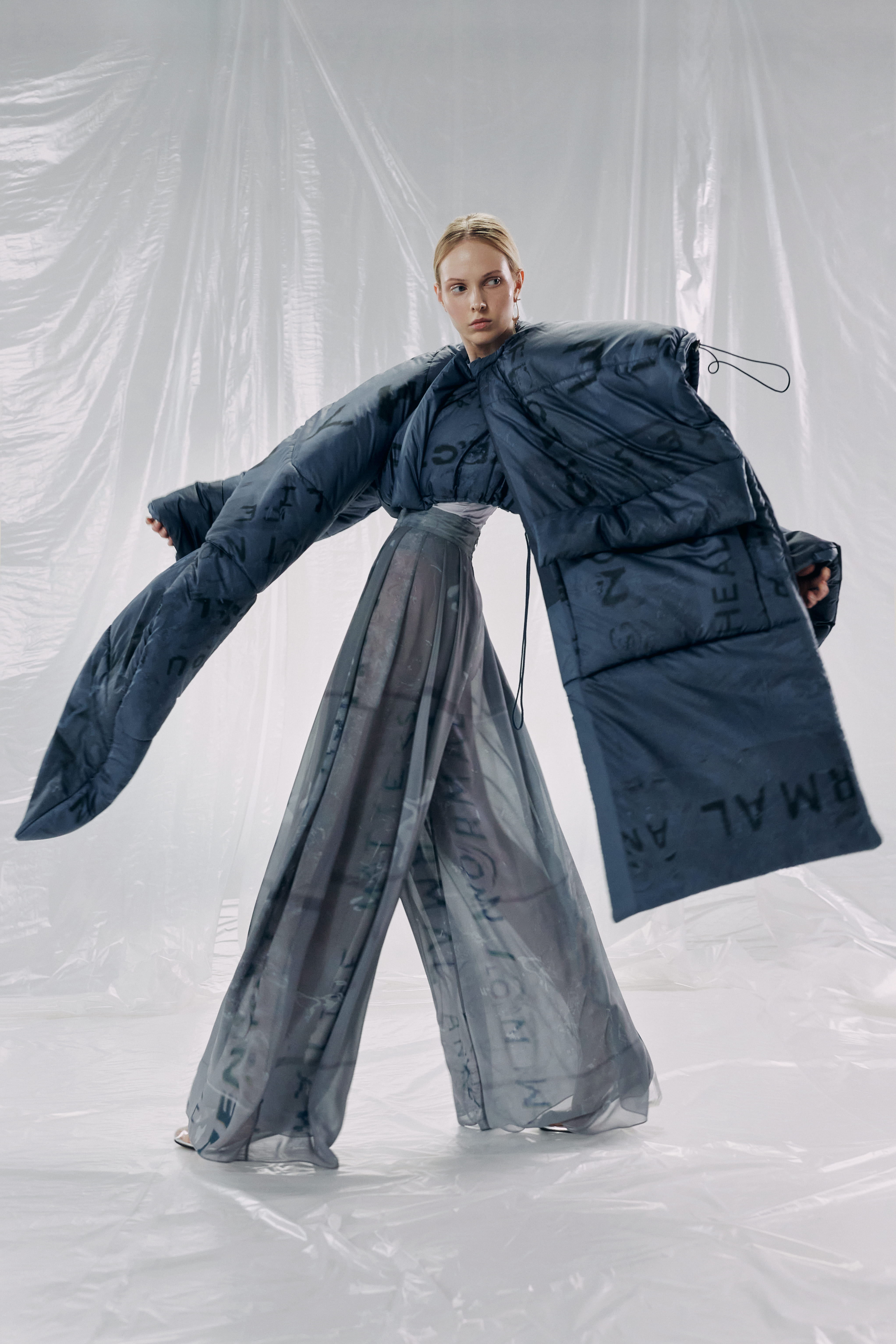 Design:
Non-Objective
Team: Vanya Koltsov, Nastiia Kim, Artem Matyushkin
Typeface: Mabry Pro (Colophon Foundry)
Design:
Non-Objective
Team: Vanya Koltsov, Nastiia Kim, Artem Matyushkin
Typeface: Mabry Pro (Colophon Foundry)